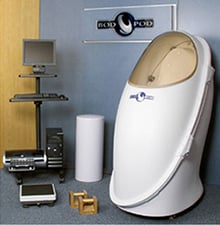 Dedicated to providing services and resources for your whole-body health needs and goals, we offer body composition testing using the only BOD POD® system within 50 miles of the Kankakee area.
Used by many professional sports teams, college universities, and the U.S. military, the BOD POD is the world's only whole-body densitometry system using air displacement technology to determine body composition—one of the best indicators of overall health.
The BOD POD's state-of-the-art testing can detect even small changes in body fat and lean body mass, helping you understand your health and measure your progress.
From tracking the success of your nutrition or exercise program to monitoring for obesity and other diseases, you and your care provider can use BOD POD testing to help you lose or gain body fat safely, fine-tune your athletic performance, and more.
Features of the BOD POD include:
Fast test time—a full test only requires about 5 minutes
Completely safe and non-invasive
Highly sensitive, advanced equipment for extreme accuracy
Excellent test-to-test repeatability for optimal tracking
Accommodates children and adults (weight up to 440 lbs and height up to 6'6")
What Your Testing Will Involve
No food, drink, or exercise at least 3 hours prior to testing.
Remove glasses and jewelry and use the restroom before testing, if necessary.
Don't apply any lotions or skin creams prior to your test.
Wear minimal, form-fitting clothing (for men: compression shorts or spandex, for women: spandex and sports bra or swimsuit).
You will sit comfortably and quietly in the BOD POD, relax and breathe normally. You'll sit inside around 2 – 3 minutes.
Air valve and electronic sounds from the system may be heard during the test.
There will be slight pressure changes throughout, which most people do not feel.
Because the equipment is so sensitive, you should try to keep the same conditions for any later BOD POD testing (time of day, hydration levels, amount of facial and body hair, etc.)
Body Composition Testing Rates*
$35 – Per test (Frequency is unrestricted; every 3 months is advised.)
$50 annually – 1 test every 6 months
$100 annually – 1 test every 3 months
CASH ONLY*
To learn more about BOD POD testing available at our Bradley location or to schedule an appointment, please call (815) 928-8050 or click on the Appointment Request button.